Two Options for Homeschoolers to gain college credit while homeschooling:
Before you get started there are some terms that will help you navigate this topic.
Helpful Terms
Dual Credit ==> Dual Enrollment, also sometimes referred to as Dual Credit, is where students can earn college credit by taking college-level classes in high school. Though it differs by state, Dual Credit classes will likely be offered via a partnership with your school and a local community college. For each 3 credits of college class you get 1 high school credit.
College Transfer ==> College transfer (CT Pathway) pathways provide tuition-free course credits toward the Associate in Arts or Associate in Science that will transfer to public or participating private college or university.
Technical Careers ==> The Career and Technical Education (CTE) Pathway leads to a certificate, job credential, or diploma in a technical career for high school students who want to work toward the completion of a credential before graduating from high school. For example, here is a list of CTE Pathways at Wake Tech. Here is a link to CTE Pathways offered at Granville Community. You can search this at any NC community college to see what they offer as each college has different programs. I'm just most familiar with Wake Tech because that is where my homeschoolers completed their pathways. You will need to look to see if the classes are offered online, in class, or hybrid. One of my daughters preferred being in class and other preferred taking the classes on line. You may need to try each out to see which works best for your learner. You can also take classes at more than one community college in NC. You can also be in a Career and Technical Pathway and a College Transfer Pathway at same time. These things can change so always check with the college.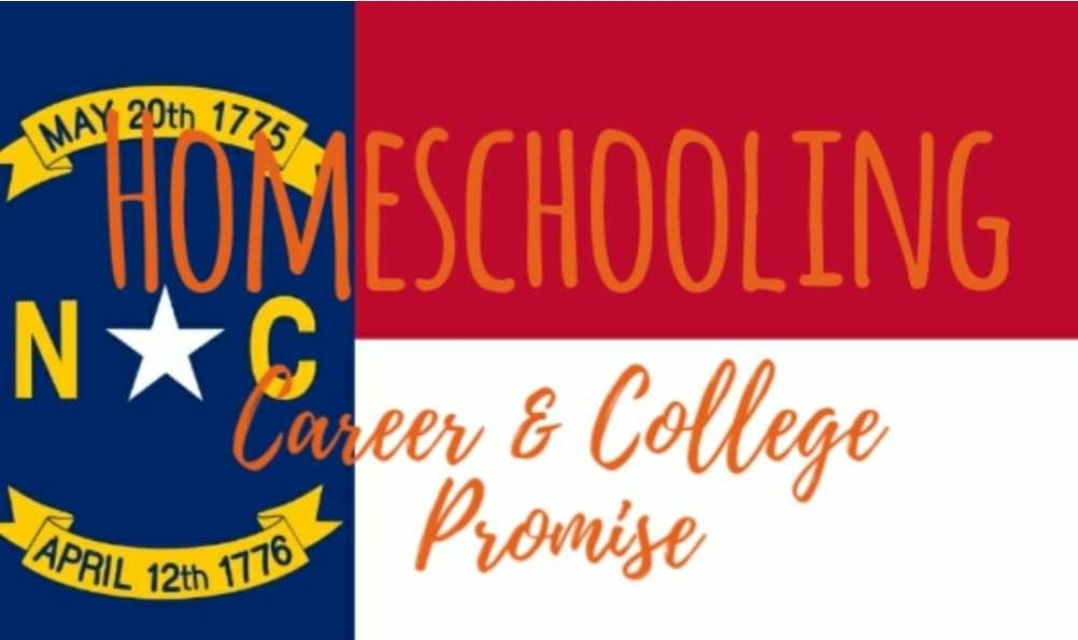 OPTION ONE: Career & College Promise
Qualified high-school-age students in North Carolina have the opportunity to pursue College and Career options, tuition free, (of course your taxes pay for this and you will pay for books and materials for class :) ) while they are in high school
Remember you are your homeschool's counseling department. Personally for me, I loved researching these options and being part of my children's future planning. Wherever you live in NC start HERE with your research.
NC Career and College & Promise Program. (There are some community colleges that have degree programs that even 9th graders can participate, but the majority are for 11th and 12th graders.) As you are making your high school plans and future plans, it's best to look at what your goals are and work backwards. For example, one of my daughters who has always been homeschooled wanted to get a 4 year degree. She wasn't sure of her degree she wanted to pursue, so we decided best for her to work on those first year college classes needed for most degrees. We looked at what the community college required to be admitted to early college program and worked backwards from there to make our plans. She earned 31 college credits while homeschooling at Wake Tech. After we graduated her from our homeschool, she began her 4 year college as a sophomore. It saved us first year tuition costs! She made the Dean's List so far every semester. I also think the fact that she showed she completed many college course during high school while working part time helped her get some scholarships. She also has severe dyslexia, so we were extremely happy and thankful we made the choice to begin her college at home.
WARNING Courses will transfer according to the articulation agreement in NC. Hers even all transferred out of state to a private college in SC. HOWEVER, just because a course transfers doesn't mean you need that course for a particular degree. Once you decide on a degree, make sure you look at the courses required. My daughter actually took more courses that actually transferred to her degree program. We are not sorry as it was a great experience for her to begin college at home and adjust to the course loads and expectations of higher learning.
OPTION TWO: Dual Credit at Home
ATC has researched and recommends Dual Credit at Home to save you thousands of dollars and time by earning college credit at the same time you homeschool. Use ATC's coupon code (ATCED) to save 100.00 off enrollment HERE that will save your family a ton of money.
Dual Credit at Home gives high schoolers the opportunity to earn both high school and college credits at the same time! The daily Study Plans guide students in taking accredited exams (CLEP and DSST) for college credit to prove their knowledge of the subject.
Just recently homeschool families that have tested with ATC have had students, even middle school and students with learning differences, pass CLEP exams following this method."

"Did you know you can begin taking CLEP exams at age 13?"

"Did you know students with dyslexia, Asperger's, and OCD have been successful earning college credit at home?"
These study plans will guide your student through 13 college-level exams to satisfy both high school and college core requirements. These exams give students the opportunity to earn up to 51 college credits! Not to mention, having these college courses on your high school transcript is a plus. This is a great option for students that are good test takers and can with some help or independently learn lots of information.
ONE FINAL NOTE
According the NC law parents or legal guardians or members of either household determine the scope and sequence of academic instruction, provide academic instruction, and determine additional sources of academic instruction. With that said you do not have to follow public school requirements for graduation. However, if your child plans to attend 4 year college you will want to work backwards. You must complete the requirements the college of choice requires. You are your child's guidance counselor. HERE are the requirements for UNC Colleges. HERE are the NC Public School Minimum Admission Requirements. These links will help with creating your transcript as well.