North Carolina law defines a "home school" as "a nonpublic school consisting of the children of not more than two families or households, where the parents or legal guardians or members of either household determine the scope and sequence of academic instruction, provide academic instruction, and determine additional sources of academic instruction."
You may choose to operate your homeschool as one of two different types of "nonpublic" schools: (1) a qualified nonpublic school, or (2) a private religious school or a school of religious charter. The requirements are the same regardless of the type of homeschool, and are listed below.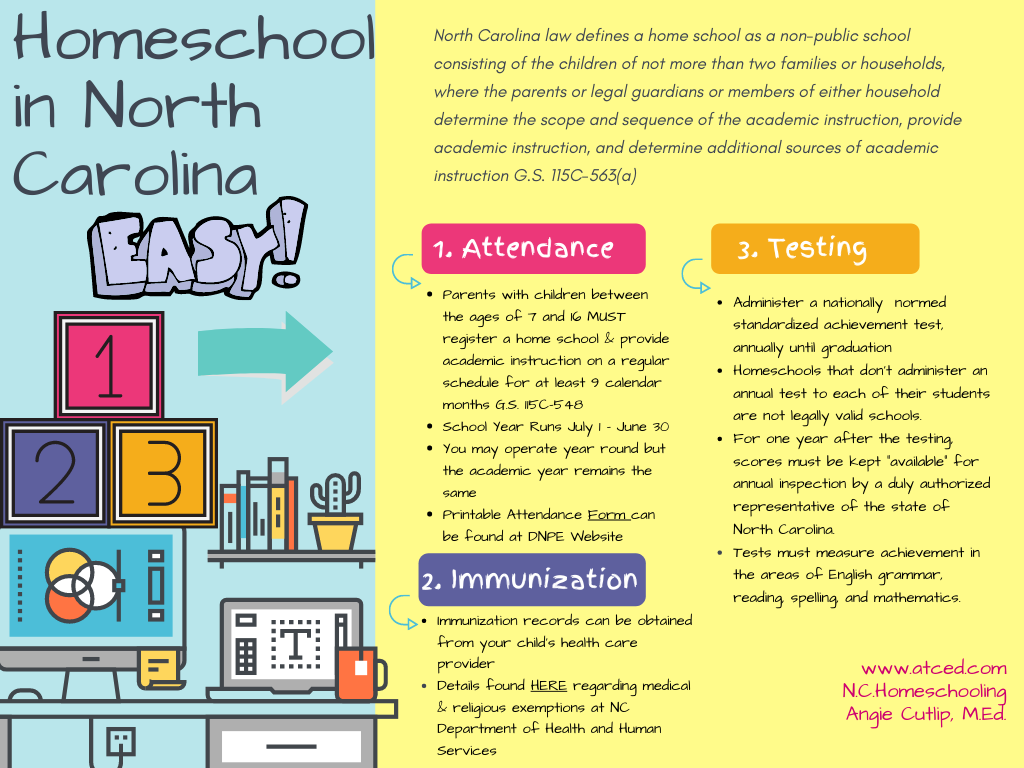 You must submit a NOI (Notice of Intent) to operate a homeschool to the North Carolina Division of Non-Public Education (DNPE). This is not asking permission to homeschool but rather notifying the state you are opening a school and will follow the laws.
If any of your children will turn age 7 before this coming June 1, please send your NOI at least 5 days before the child's 7th birthday. You only need One Notice of Intent per school, not per student. REMEMBER NO SCHOOLS CAN BE OPEN MAY AND JUNE. If your student turns 7 during either of those months just open prior.
No Notices of Intent are accepted in May and June. If your home school will operate only during the summer months, DO NOT send a Notice of Intent to DNPE.
The persons who provide academic instruction in your homeschool must have at least a high school diploma or its equivalent.
You only have to submitting this notice once when you are opening your school. Your notice must contain the name and address of your homeschool and the name of your homeschool's owner and chief administrator. You may submit your notice of intent to operate a homeschool via the DNPE's website.
Your homeschool must operate on a regular schedule for at least nine calendar months each year, except for "reasonable holidays and vacations."
1. ATTENDANCE
You can download a homeschool attendance form from the DNPE's website, although the use of this form is not mandatory.
2. IMMUNIZATION
Immunization records need to be kept up-to-date unless you have a waiver. Immunization records can be obtained from your child's health care provider. If you have a religious reason for not wanting your children immunized, write a letter explaining your objection, sign it and put it in your homeschool records. If there is a medical reason for not immunizing one or more of your children, you will need to get a waiver from from a licensed physician for each child that is waived. Information about medical and religious exemptions from immunizations is available on the website of the North Carolina Department of Health and Human Services.
3. TESTING = THIS IS WHERE I CAN HELP
At least once during every school year, you must test your child using a nationally normed standardized test or other nationally standardized equivalent measurement. Standardized tests measure students' knowledge of material that is deemed common knowledge for all children in their grade level. These tests are not cognitive or IQ tests. The test you are required to administer in NC are normed referenced. They are not EOG's, EOC's or NC Competency Test, as these are criterion referenced and do not meet the legal definition in NC for homeschoolers. Standardized tests cover reading, language arts, and math, and some also include science, social studies, and other subjects. The test you choose must measure achievement in the areas of English grammar, reading, spelling, and mathematics. The Woodcock Johnson meets these qualifications.
For one year after the testing, your child's test scores must be kept "available" at the principal office of your homeschool for annual inspection by a duly authorized representative of the state of North Carolina (The Director of The Division of Non-Public Education or his/her staff). The law gives the DNPE no right to enter homes or to inspect any records besides test scores.
When you stop homeschooling in North Carolina or if you move out of the state you must notify the DNPE that your home school has closed. You can close your home school after logging in to the DNPE's website in the portal here.
UPDATE YOUR HOMESCHOOL ACCOUNT
Each year you can update your information or add siblings to your school in the portal. See image below for all the things you can do in the portal. It is very important to update your enrollment as this is the data legislators use to determine the budget for things like Driver's Education for homeschoolers.
LOG INTO YOUR HOMESCHOOL ACCOUNT HERE TO UPDATE ALL THE INFORMATION IN THE IMAGE BELOW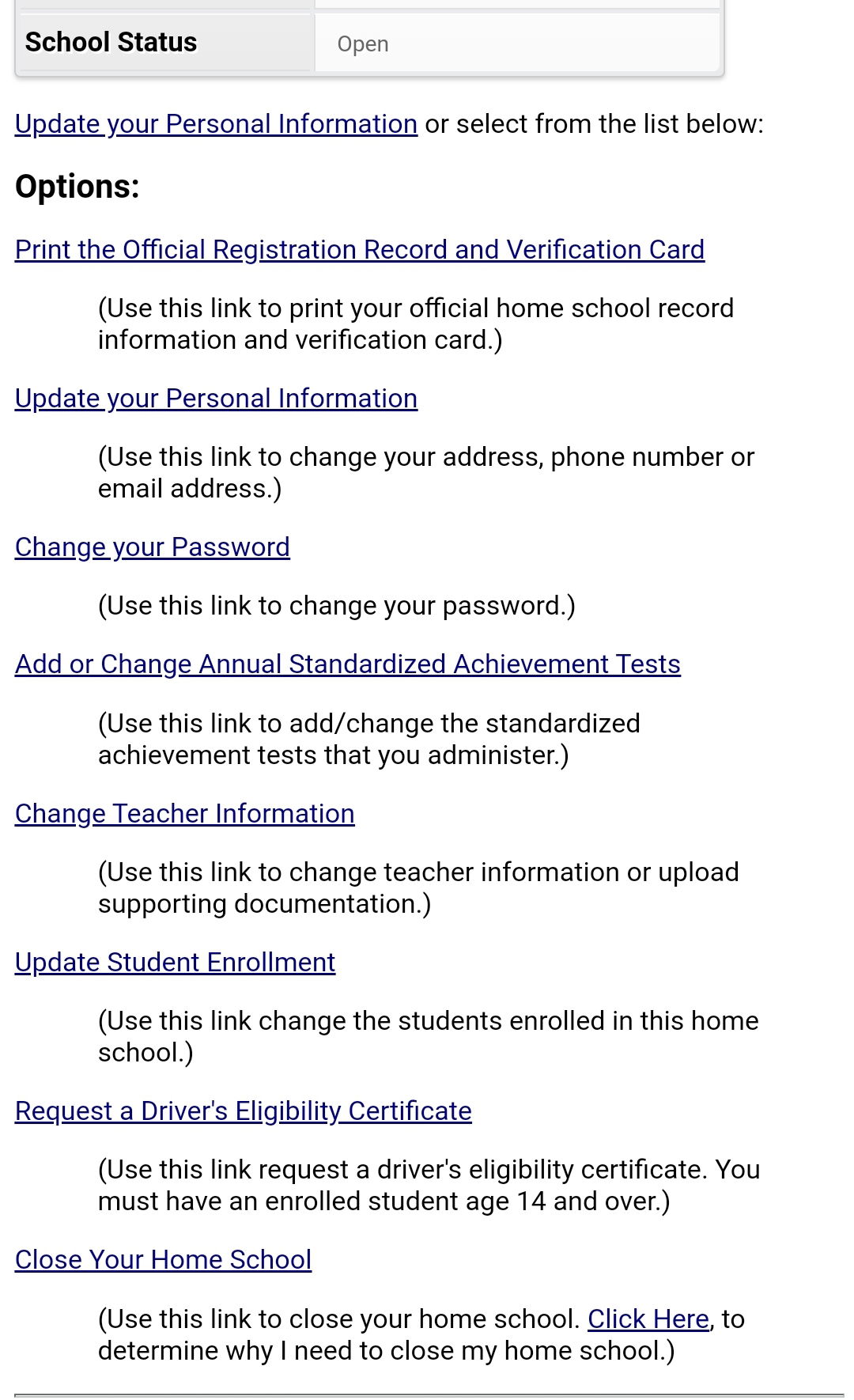 Example Text